Welcome to Technology Recyclers, the Official Sponsors of Tomorrow. We operate out of our facility in Indianapolis,  and provide computer electronics recycling services to all of Indiana. We provide a better future for our world through community, business, and local government recycling projects. Most of all, it's our mission is to save the earth and the people in it.
We offer Corporate/Business Pickup Services, Community Drop Off Events, and Residential Drop Offs at our Facility. We do not offer Residential pick ups at this time.
We recycled over 200 tons of computer and electronic waste at our spring events this year
So many people came out from the community to support our spring events. Because we are 100% landfill free operation, you are saving the earth and the people in it when you participate in our community drop off events. That's why we are the Official Sponsors of Tomorrow.
Technology Recyclers are proud to be able to recycle almost any electronic device you could think of:
computers
laptops
external hard drives
cell phones
televisions
monitors
all media players,
smart phones
tablets
Most anything that ever plugged in
all batteries
It doesn't matter how big your computer electronics recycling needs are; from 10 devices to an entire office space full of unwanted electronics. We are willing and able to take on the challenge. We recognize that everyone's needs are different. Whatever you require, we are on hand at a moment's notice to help you dispose of your electronics responsibly.
Based on recent statistics, the United States generates 220 million tons of waste every year. What's more, 55% of that, or about 120 million tons of waste, goes into landfills, annually. As a result, the basic problem of pollution is even more significant when you consider electronic devices. This is, in part, due to the hazardous material they contain that does not simply erode over time.
If electronics are dumped in landfills, they leak dangerous chemicals into the environment and cause major health concerns. In most cases, recycling is simply the more responsible choice. But in the area of electronics, it becomes essential to our health. If not recycled, many of these electronics end up in landfills hazarding our safety and the safety of the planet.
That's why at Technology Recyclers, we work to rule out this problem with our goal to contribute zero electronics to landfills. Not only that, we sort these obsolete devices back into their basic material parts through computer electronics recycling. This allows us to reintroduce them to the market in a sustainable way.
Technology Recyclers serves over 4,000 clients in a wide variety of industries- It doesn't matter how big or small, we do it all!
We help clients from a broad scope of industries like:
corporate businesses
healthcare facilities
hospitals
schools
legal systems
government contracts
We work with businesses that have needs as wide-ranging as:
computers and laptops
printers
copiers
IT equipment
medical electronics
all connecting, wiring, and cabling racks
Electronics are different from many consumer products in many ways, not least of which is how quickly they become obsolete. Complex devices often break. In a rapidly changing and evolving marketplace, new devices are constantly pushing out old ones.
Some sources site that the average American replaces his cell phone as often as every two years. When you add computers, televisions, and other devices in need of replacement, the amount of unwanted electronics is staggering.
Even if you're able to keep your device for a longer period than the standard rate of replacement, because most electronics run on software, they have baked in obsolescence. Operating Systems update frequently, and the list of old computers and devices that new operating systems do not support is growing bigger and bigger.
Furthermore, this rate at which electronics become obsolete is growing each year. It's this huge need that gives us the chance to serve our community in such a necessary capacity.

FRIENDLY PEOPLE
FREE SERVICE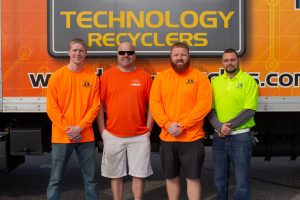 Possibly the best feature of our business model is that all the pickup services we offer are completely free. In addition to this, we load all your computer electronics into our vehicles and haul them away. We have our own corporate pickup and disposal trucks and can offer scheduled pickups for whatever time and place is most convenient for you.
And if you are a school or business that needs regular service, we are able to schedule regular repeat pickups, again, at no charge to you. If there's a bulk order, we will even organize the devices for you into the different categories needed before processing. Our vehicles typically respond within 48 hours. This provides you with the kind of quick, efficient, and convenient service we demand of ourselves.
When we say free, we mean it. We handle all the logistics and all the problems, at no cost to you. No charge for estimates, no processing costs, and no hidden fees. When you use our service you make a promise to future generations that the world will be bright and clean for many years to come.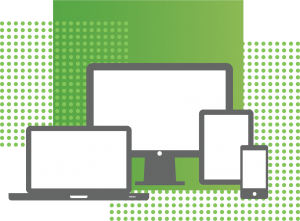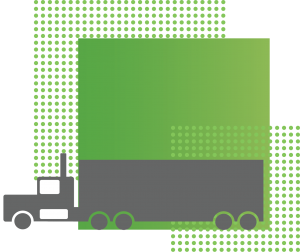 WE PICK UP FROM YOUR BUSINESS. IT'S FREE!
 Electronics Don't Belong in Landfills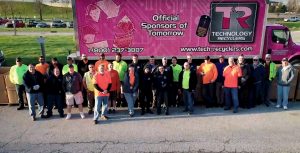 The problem is that some electronics in the state of Indiana are still disposed of through the municipal waste system. Maybe this is due to a lack of awareness or knowledge about their effect on the environment. Yet, despite the effort to filter these devices out of the trash, too many end up in landfills each year. The damage this causes to the environment and to future generations is difficult to quantify as these harmful devices decompose and off-gas.
As this happens, harmful chemicals that were safely contained in devices become exposed to the environment, leaking  into either the air or the ground. You will find basic chemicals and complex compounds in many computers and electronics. This includes lead, mercury, cadmium, heavy metals, and hexavalent chromium, to name just a few. When we recycle our electronics, the danger that they will harm the environment is no longer present. We must always recycle our electronics rather than allow them to be dumped into the earth.
Throwing Electronics in the Trash is Illegal
Not only is recycling electronics responsible, in Indiana, it's actually illegal to dispose of them in any other way. Indiana passed a law in 2011 (see Indiana's waste regulations: 329 IAC 16) that prohibited local households, public schools, or small businesses from throwing away electronics.
Throwing away includes burning or mixing electronics with the municipal waste, since most of the municipal waste is later disposed of in landfills. This would, of course, contribute to the depletion of our natural resources and be hazardous to our health.
If your company is cleaning out it's offices or moving, we can show up on the day you need and haul away any unwanted computers or electronics. In the past, we have serviced entire office buildings with piles of unwanted computers, printers, and phones. We do all the removal, loading, organizing, and recycling, and at no charge, regardless of the amount of devices.
Aside from being against the law, the traditional disposal of electronic devices brings with it, a unique set of security risks. We are able to provide certificates which prove all your sensitive data is safely and permanently erased from every device we recycle. Our exacting standards for destroying your data begins when each truck is unloaded.
Every item we pick up will be entered into a virtual database, where it is processed and a record kept for any future needs.
Any item that contains data like cell phones, external hard drives, or hard drives in computer bodies are removed. Once removed, we destroy each device one by one so that no information can ever be retrieved from it. These devices are carefully shredded by our top-of-the-line industrial equipment.
Technology Recyclers Keeps Your Identity Safe
We ensure that all information from devices can never be retrieved. This includes all stickers, tags, or markers that identify you. This is relevent to keep you and your company safe and secure throughout our recycling process. We seek to keep not only your information, but also your identity safe. This is especially important for healthcare or securities industries that put a premium on data security.
Our company is built on the principle of going the extra mile. We serve our customers with the most convenient, safe, and reliable computer electronics recycling process possible. Most of all, this includes the safety of your information. As soon as the electronic devices leave your company walls and enter our trucks, you transfer all liabilities to us. This is another security measure just as important for your protection.
Electronic Drop Off Events
Over the years, Technology Recyclers has been proud to offer drop off events. We raise awareness for computer electronics recycling, and offer a one-stop option for unloading all your unused electronics. These events for local residents recycle thousands of pounds of electronics that might otherwise be dumped into landfills.
We've held community drop off events in Fishers, Carmel, and Brownsburg, just to name a few. This allows us to spend up to six hours in our residential communities, making our world a safer place.
In the last 8 years, we've held over 130 community recycling events. We look forward to playing an even bigger role in our community service this year.
Year after year, our business continues to see growth in the amount of hazardous electronics we recycle. These numbers continue to rise as we partner with you to reduce the disposal of harmful electronics.
With your help, we were able to recycle millions of pounds of electronic waste last year. That's a huge amount of waste that spares landfills across the country from electronic waste. It is also recycled back into the market where the materials are reused.
Organizations we support:
In addition to the improvement of the quality of our environment, we are proud to support our local community through non-profits and charities. Crime Stoppers, Girls Nite In Intl., and Kids Voice of Indiana are just a few of the efforts that we support. In turn, these companies give back to our local community. By supporting us, you are supporting them and the work they do for the children of Indiana.
Assisting Local Governments
Along similar lines, Technology Recyclers has set up events for municipal and local government officials. These officials work with us to achieve their computer electronics recycling goals. Because Indiana law encourages recycling, many companies are glad to have a free and convenient way to dispose of their electronics.
The services we offer are state-of-the-art, and it all starts with the trucks that arrive on call. We have our own corporate pickup and disposal trucks and offer scheduled pickups for whatever time and place is most convenient for you.
You might have seen us drive around the area; we're hard to miss. One of the favorite features of our business in our community is our bright pickup trucks, which are blue, green, and orange. In addition to our trucks, we even have bright colored wraps on our buses that travel through the city. We believe that recycling is not just something we're responsible for, it's also fun. It's one more way in which we can go the extra mile to serve you in the best way possible.
Certificate of Destruction
We keep our entire process under scrutiny at all times. In this way, we ensure that every step is made in compliance with industry standards and our own demand for professional operations.
Once every stage in the computer electronics recycling process is complete, we send you a verified certificate. This certificate proves the removal of all your data from the devices and that the itself is safely and responsibly recycled. You receive a hard copy of your certificate that you keep on hand for future reference when you need it.
Innovation and Improvement
One area that separates Technology Recyclers from the pack is our commitment to constant innovation and workplace improvement.
First of all, due to the basic health concerns that arise in our business, it is very important for us to ensure our workers' safety and health. Because of this, we do everything we can to maintain an injury-free workplace. In addition to workplace safety, we all work to minimize pollution and maximize our customer's peace of mind.
We are committed to constantly growing, moving forward, and improving every aspect of our promise. Quality of service and convenience are a driving force of our work. In addition to that, the health and safety for our workers and a commitment to the environment are all founding values of our company. We want to earn your trust as the number one provider of computer electronics recycling services in Indiana.
Feel free to give us a call or email us if you have any questions about our process or when we're available,. In fact no detail is too small for our team's attention. We are committed to earn your trust as the source for friendly, secure, and convenient computer electronics recycling.
Electronic Production Required to Recycle 60%
Aside from Indiana law's effect on residents and businesses, the state also encourages companies that manufacture electronics to recycle. This mostly effects the production of televisions, monitors, laptops, and other video display devices. Indiana law requires these companies arrange the collection and recycling of devices equal to 60% the weight in items they sell.
In other words, a company that sells 100 pounds of electronics in a year is responsible to recycle 60 pounds of old electronics in that same year. This ensures that most of the electronics that are disposed of every year are recycled instead of dumped. Furthermore, we personally involve ourselves in many of these operations. We see millions of pounds of electronics pass through our facilities properly and responsibly recycled.
Technology Recyclers operates in conjunction with the excellent policies advocated by the Indiana Recycling Coalition. These policies include items like banning yard waste from Indiana landfills. In addition to that, they advocate proper management of waste sites and the recycling of electronics and other harmful materials.
Through the years, the Indiana Recycling Coalition has helped pass laws that help Indiana maintain safe standards for our environment. Because of this, we are pleased to work within these guidelines and laws. As a result, working with our government provides you with the cleanest, best computer electronics recycling services available.
Technology Recycler's operates on a 98% landfill free policy. Even when it comes to that 2%, we ensure that none of the materials we put in landfills contain any hazardous chemicals or compounds.
On top of that, we are able to save many of the precious materials found in electronics such as steel, glass, plastic, copper, aluminum, and gold. Through our work and your partnership, we are able to recycle these materials back into the market. This keeps millions of pounds of hazardous chemicals and waste out of landfills every year.
Many of the rare earth metals and materials mentioned are better recycled than salvaged. In the more traditional and painstaking process, these materials are mined by hand from each device. This hand mining process sometimes takes several hours to complete. Given the enormous quantity of electronics we dispose of, this process is impractical at best.
By recycling these devices, we are able to gain all the benefits of salvaging these valuable materials. This is always preferred, rather than dealing with the setbacks in time and energy taken mining them by hand.
Technology Recyclers
Free Computer Electronics Recycling
We recognize that every individual and every business has different needs. Whatever your chief concerns are, from bulk recycling to secure data removal, we commit to go above and beyond what you would expect. Most of all, we give you peace of mind that your computer electronics recycling needs are in the right hands.
There are many benefits to partnering with us in safe, responsible, and secure recycling of your electronics. For instance, you ensure that not only your needs are met, but that the world is a safe place for generations to come. We at Technology Recyclers offer a safe, responsible, and completely free service. From pickup to the recycling process itself, we are your one-stop solution for any and all electronic recycling needs.
Finally, we want you to know that we are continually monitoring our work. Therefore, we are always looking for areas in which we can improve and innovate every part of the recycling process. This is just part of our effort to be the very finest in the field. We hope we have earned your loyalty as together we seek to save the earth and the people in it. We are Technology Recyclers, the Official Sponsors of Tomorrow.
GET IN TOUCH
We're social and we'd love to hear from you!
Feel free to send us an email, find us on
Facebook and Google +